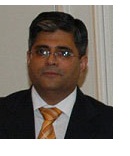 Dr. Shirish Gupte, CEO and Managing Director of ICT-Kitara Capital Joint Venture, Oman is a distinguished professional with experience in private equity capital raising, mergers and acquisitions, business development, technology sourcing and joint venture, financial and general business advisory and strategic planning. Before joining ICT, he has held senior positions at Oman & Emirates Investment Holding Company, where, among other responsibilities, he spearheaded business plan preparation, project evaluation, debt and equity syndications, strategic and long-range planning and organizational structuring. He also made significant contributions as Manager of Business Development at Kirloskar Brothers Ltd., where he focused on strategic planning and diversification of core business units. He has handled projects throughout the Middle East and Indian subcontinent totaling over USD $500 million.
His academic qualifications include Bachelors in Chemical Engineering from IIT Bombay, Masters and Doctorate in Chemical Engineering from the University of Buffalo, US. He holds post graduate diploma in business administration from the Symbiosis Centre for Distance Learning and is a Board member of Bin Tamman Group, Oman.
Dr. Gupte guides team on diversified issues specially capital raising, deal structuring, business development and strategy.
He can be reached at sgupte@ictoman.com