Our Business can simply be defined as follows:
Simple 5 - Step Process for all Businees Solutions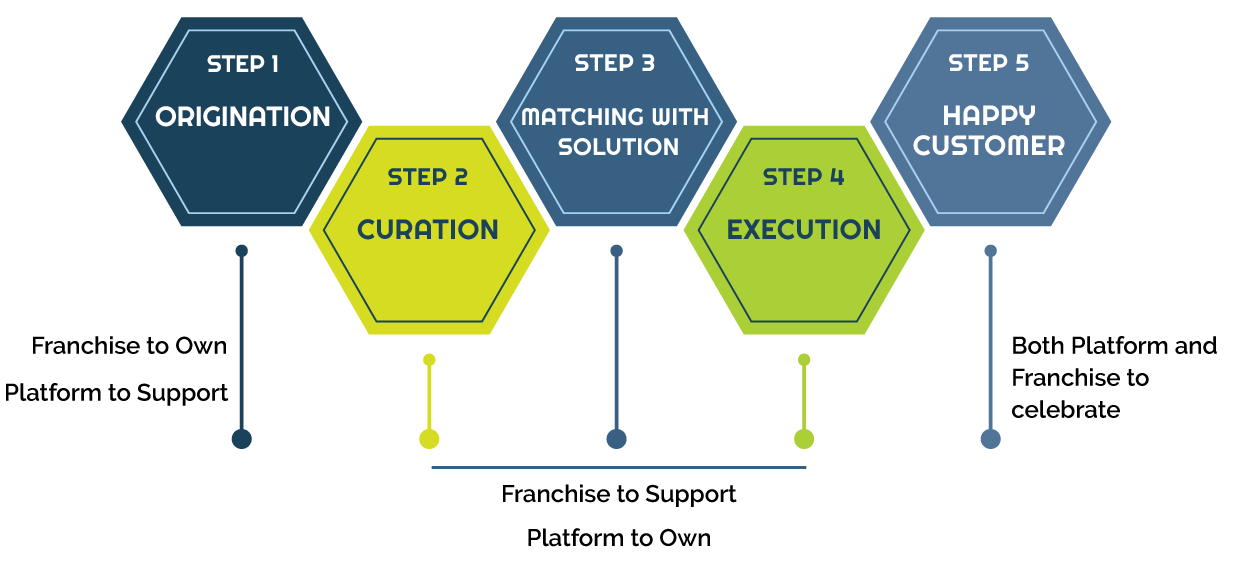 As language is different in different parts of the country and relationship is key to our business, we believe, origination needs to be localized. Accordingly, we have been building army of credible and knowledgeable owners of the platform at the city level to engage with the local participants – Professionals/professional entities (solution providers) and Businesses (solution seekers). These city level owners are the torch bearers and brand ambassadors for the platform. Hence, city owners drive relationships in their City / Region and team at Head Office, Mumbai backs them up with seamless operations – conversion and execution of originated transactions, systems, processes & technology upgradations, legal & compliance aspects, mindful expansion of products/services, branding & positioning of the platform, digital outreach to both solution seekers and solution providers etc. Together, we create value through ensuring an excellent experience for solution providers and customers (solution seekers).
Why to take our Franchise
Zero investment to own a running business in your city –Our Franchise is based on refundable deposit with no Franchise fee. You have only financial upside with zero downside.
100% success rate – Every single person who has taken our Franchise has been running business successfully. Our role is to facilitate the success of the city owners of the platform.
Immediate start without infrastructure investment – Zero investment in infrastructure, people, advertisement and inventory. You can start business from your existing office or without it. Minimal operating costs to run the Franchise.
Opportunity to earn monthly and create valuation – You will earn monthly fee based on the transactions either originated or executed in the city of your ownership. In addition, as the franchise is transferable, you have the potential valuation play here on transfer of the franchise after building up the business.
Zero Credit – In our business, we extend no credit at all to the customers. We start the business only after taking deposit/advance fees from the customers.
Ownership leads to quality life – This is a business that earns you money, while you are not working, allowing you to spend more quality time with your family/friends and things, you always wanted to explore.