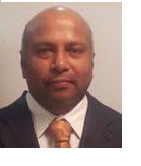 V. Nagesh is a multidimensional personality with experience as an employee, astute investor and business man. Today, he is known in his circle for his impeccable investment track record, both in listed and unlisted businesses. He has invested in several small companies and have been their part even post listing of these businesses on stock exchanges. His experience on investments, exists, understanding of businesses and promoters, comprehension on both macro and micro economic factors is incredibly great. He is also a director on the Board of Ameya Retaility Pvt. Ltd., a real estate development company.
Over a career spanning more than two decades, he has worked with organizations like CRB Daewoo Securities Ltd., Goda and Company, Stock Holding Corporation of India etc. He has also been instrumental in setting up new business ventures in these assignments. He is also an avid golfer and his ability to apply lessons from golf to the business and life is unmatchable.
He is a MBA from University of Mysore and graduated in Arts majoring Mathematics, Economics and Statistics. He was conferred gold medal for his remarkable performance in graduation.
Team looks to him for guidance on with wide range of issues – Business understanding, Private Equity fund raising, Mergers & Acquisitions, Business Valuations etc.
He can be reached at nagesh_vankadari@yahoo.com