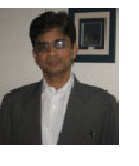 Manish brings to team over 17 years of experience in diverse fields including listed space investing (Jeetay Investments Pvt. Ltd., India), sales and business development (Citibank, India), regulatory (Securities and Exchange Board of India – SEBI, India) and business analysis (Institute of Chartered Financial Analysts of India – ICFAI, India). Diversity in his experience imparts him with great ability to structure issues and synthesize potential solutions in any given business situation. He is excited about potential of SME businesses in transforming the world and over last several years, has been continuously striving to add value to SMEs.
He has done his M.S. in Business Administration from University of Maryland, U.S. He also holds other degrees like MBA, CFA and Licentiate in General Insurance.
He has been sharing knowledge continuously from different platforms such as Bombay Stock Exchange (BSE), National Stock Exchange (NSE), Multi Commodity Exchange (MCX), Dun and Bradstreet (DnB), Credit Rating and Information Services India Ltd. (CRISIL) and various industry bodies like FICCI, ASSOCHAM, CII etc. He also serves as visiting faculty to prestigious Institutes including Indian School of Business (ISB), Hyderabad, Indian Institute of Management (IIM), Bangalore, Indian Institute of Technology (IIT), Mumbai and several others. In addition, he has several publications to his credit.
He can be reached at manish@smevalueadvisors.com