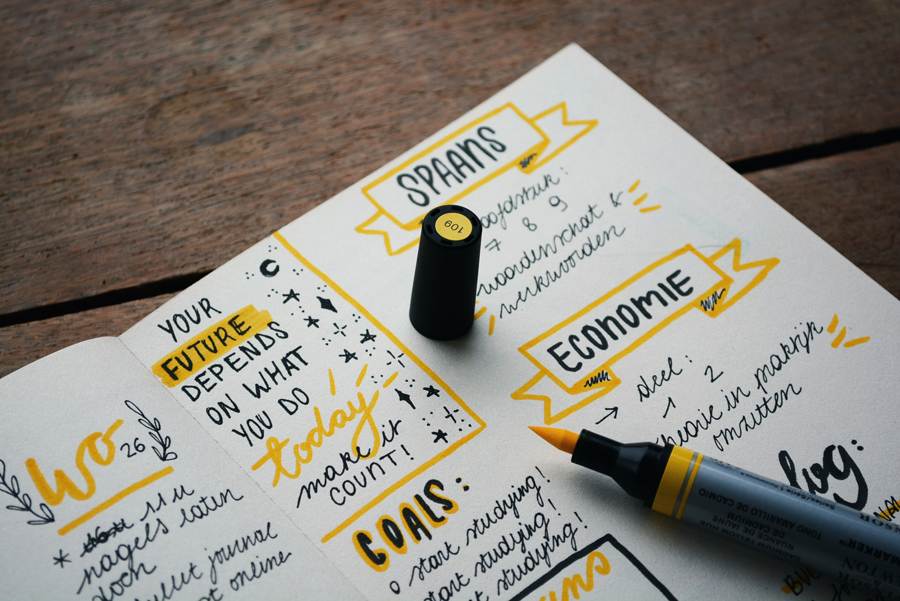 Is your business on the path you dreamed it would be on? Have you, the leader, reached the goals you wanted to reach? If the answers are not affirmative, don't be hard on yourself.
As an entrepreneur, you started the business for the right reasons. You saw a gap in the market and rushed to fill it. And it worked. You got an office, hired people, and built a beautiful company that makes you feel as proud as your child does.
But over time, the business became a liability. Not on the balance sheet, but on your time, energy, and resources.
The thrill is gone. Now you drag yourself to office. As soon as you get there, you get pulled in ten directions. People don't perform, customers complain, taxmen arrive but revenues don't… and all the problems land on your table. You solve them over and over again.
Sometimes you just wonder whether you should give it all up and retire. Then you ask yourself, "If not this, then what?" The question is not just how you'll earn money, but how will you use your time? How will you kill your own child?
No. You want your business to grow into an independent, successful entity by itself, just like you want your children to have bright futures for themselves. Otherwise, you wouldn't have read this far.
You just have to take action to make that dream a reality.
It doesn't take much to get there. You have to make a few tiny switches to your mindset and actions. You have to take control of your business instead of letting it control you.
---
The three steps below will help you take control of your life and business:
1. Prioritize Your Tasks
Most leaders try to optimize their time. Doing more keeps them busy and makes them feel productive.
But you can be busy all day and not do anything useful. It's important to do more of the right thing instead of doing more things right, Peter Drucker wrote in The Effective Executive.
Let me say that again. Doing more of the right things is more important than doing more things right.
Time moves at its own pace; you cannot manage it. The only aspects you can manage are your activities. Effective task management automatically leads to time management.
I don't make a daily to-do list. Instead, I put my tasks in the respective quadrants of Eisenhower's Matrix. Then I complete the Important and Urgent tasks, followed by the Important but Non-Urgent ones, before moving to unimportant tasks.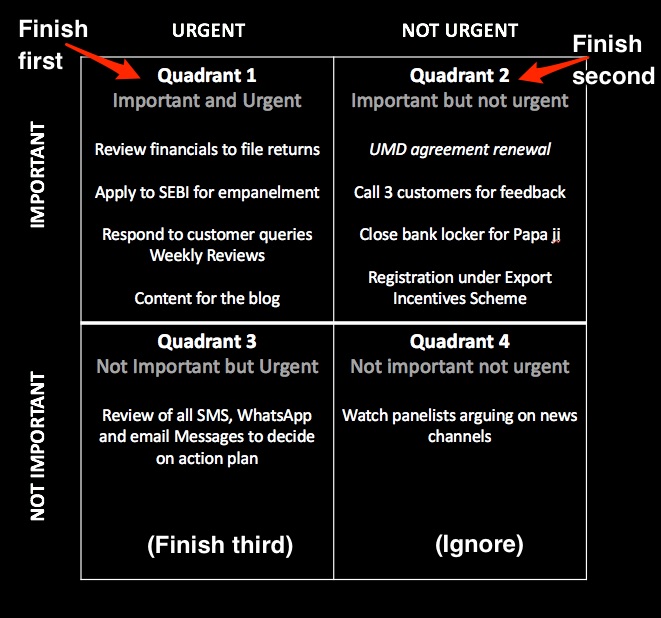 I note down my tasks before I begin my work day. You can do this exercise at home or as soon as you enter the office. But it's important to do this in isolation before the chaos of the day begins.
Urgent tasks keep you busy, important tasks make you progress. This means your focus must remain on important tasks. But some urgent tasks cannot be ignored, which is why you must also take the next step.
---
2. Delegate What's Not Your Core
If you want to focus on larger goals, delegation is a must. In fact, all effective leaders are master delegators. They prepare others to take up more of their manual work so that they can work on the real work of a leader: thinking and senior-level relationship building, tasks you cannot delegate.
But most of the other leaders simply delegate tasks and forget about them. As a result, when people make mistakes, leaders' workload increases. Eventually, they take back control and things revert to the way they were.
Delegation doesn't just mean telling your employee, "Finish this task, I don't care how." It means getting the task done the right way from someone else. This involves assigning the right task to the right person and setting up systems and processes for them to succeed.
Each time I get a task, I ask myself, "Who's better qualified than me to do this?" Then I assign it to the person and work to empower her or him to achieve the expected outcome. This doesn't just reduce my workload; it also boosts people's morale and makes them produce their best.
Don't try to do things better than your people. Empower them to do their jobs better. That's when you can focus on long-term value creation and preparing for the future.
---
3. Use Reviews to Close the Loop
Once leaders delegate tasks, they must track whether tasks get completed or not. That's when a loop gets closed. And this is why review meetings are critical.
Here's how we do it at SME Value Advisors.
A handful of people report to me while the remaining people at the organization report to them. Thus, the people who report to me are responsible for those who report to them.
In our weekly meetings, we discuss how people performed compared to their action plans and what their plan for the next week is. If they're facing challenges, we brainstorm feasible solutions. And if they hit a roadblock during the week, we get into quick, ad-hoc meetings.
Our review meetings don't last more than 30 minutes because we set the agendas in advance and prepare for them. Without this policy, we could end up running in circles and waste precious time.
Conduct periodic reviews with your people. Track the status of their activities and ask for their plans for the coming week. This will help them build a sense of direction and clear focus. They will plan their own weeks and review their own work, letting you focus on larger goals.
---
Final Thoughts
These steps are simple, but not easy. However, if you follow them consistently, your efforts will compound to offer unbelievable long-term returns.
So just keep three things in mind:
Prioritize your tasks. Note down your tasks before you begin your workday and complete the important ones first.
Delegate everything you possibly can. Find the best people to manage them, and build systems and processes to help them succeed.
Focus on closing the loops through periodic reviews. Encourage your people to plan the week ahead and do a self-review of the activities of the previous week. Help them overcome their challenges and make concrete progress.
As a leader, your time is worth $1000 an hour. Treat it like that. Only then will you turn your company into a multi-million-dollar conglomerate.