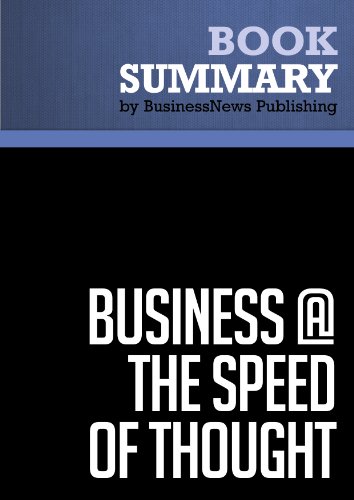 This book, written by Mr. Bill Gates in the 1990s, is a testimony to his 'Genius'. The world has seen most of his predictions come true and more. A central theme of the book for businesses is the emergence of the "Digital nervous system" – a connected corporation, wherein all stakeholders can access any information, anytime, anywhere, and transact online in a seamless manner.
Here are some interesting takeaways from the book.
1. Technology is a tool to transform businesses.
Technology not only helps us automate mundane and routine jobs/processes, but also creates efficiency through a well-integrated flow of information, helping people share knowledge and experiences, and respond quickly to emergencies and opportunities alike.
2. How CEOs can empower their people.
CEOs must encourage people at each level to list down the information they need to complete their tasks efficiently. Then, ensure the information system within the organization delivers it. Human capital is best deployed towards activities like thinking, decision making, and actions rather than collecting information. That is how we can enrich human capital and improve their productivity.
3. Forms should be standardized.
All the forms (used by internal and external stakeholders) should be standardized, digitized, and put on the system with open access. Further, they should be linked with email to save time and online approvals/movement. People should only handle exceptions and value-added issues to ensure the best of their time.
4. Which businesses will thrive and which will perish?
The book states, "Most transactions will become self-service digital transactions and intermediaries will evolve to add value or perish." We can see 'Value chains' in all domains shrinking as producers and consumers are able to connect directly with help of technology.
As a result, businesses are continuously redefining their roles to add value to customers. And the ones unable to do so are dying. Customer service is increasingly gaining momentum in the digitally connected world.
5. Creating markets that didn't exist.
The book states, "With its unique ability to bring people together, the web will create markets that didn't exist before." The emergence of the gig economy like AirBnB, Uber / Ola, Upwork, OTT Platforms, Podcasts, Blogs websites, YouTube, and e-tailing are examples of these unique markets.
6. The internet has changed the business landscape
The book states, "The Internet requires you to be either a high-volume, low-cost provider or a high-touch customer service provider. For the high-volume, low-cost model, use Internet technology to create a self-service approach. Only a few companies in any market will be high volume players. To succeed as a high-touch customer service provider, arm your knowledge workers with digital information tools to connect with customers and manage those relationships."
One can see the dominance of a few large players in each high-volume low-cost space. For example, Amazon and Flipkart in e-commerce, Netflix and Amazon Prime in OTT, and Uber and Ola in taxi services. Technology-driven dominance means companies will expand geographically very fast. There won't be room for "me-too" players. Niche players may exist in every space, though. And, these niche players will either expand on their own or will be acquired by the larger players.
7. How customers will connect with companies
The book states, "The Push to talk button on website will become the norm. When a user clicks the button, he will be connected directly to the company's call center, where both agent and caller can browse the same web contents simultaneously while speaking over a voice connection."
We can expect the 'initiate a call back' feature to be replaced by the 'push to talk' buttons on various websites. Indeed, Amazon's 'initiate a call back' provides the same experience with an instant call back from its customer service representative. I have experienced the same multiple times.
8. Improve your customer experience across
The book states, "A successful website requires the creation of a new customer experience that takes advantage of the unique capabilities of the Internet. The majority of your interactions with customers on the Internet will involve support rather than sales."
We can expect future websites to provide pre-decision support in the form of information about products/services and reviews by other customers etc. They would offer seamless transactions with integrated multiple modes of payment. And post-transaction, support for complaints, returns/refunds, and other issues customers may have. A good website will turn salespeople into consultants.
9. The age of the "Web Workstyle"
The book states, "Web workstyle will make it possible for employees to telecommunicate and collaborate with each other." Indeed, this saved our lives during the pandemic. People worked from different locations to deliver solutions.
We can expect people to adopt this lifestyle on a permanent basis. We can also expect people to be more mobile and choose to work on various projects with various groups. This attitude results in the emergence of the "Passion to Profession" economy.
10. Data is turning into the new gold.
As digital transactions leave the digital footprints, we can expect 'Data' to be a new-generation resource. Data Warehousing, Data Mining, Data Analytics, Data Interpretation are already emerging as new opportunities for professionals.
Data-driven approaches to shift the power of advertising from print media to digital media are already visible. We can expect much more targeted and customized advertisements to be shown to customers. Digital could become the primary medium of engagement with the customers.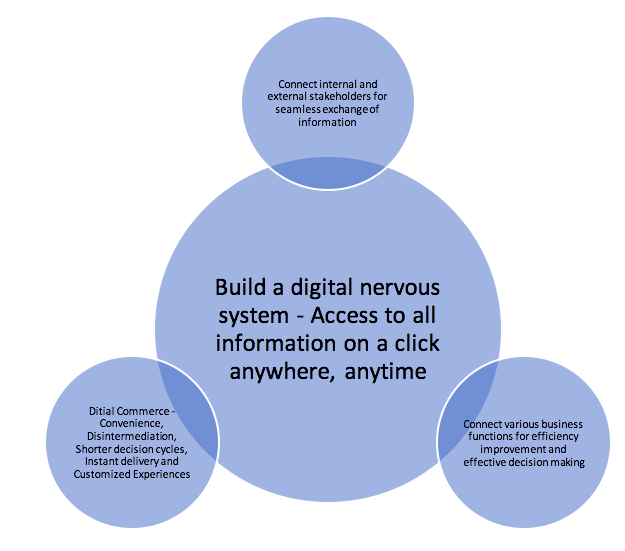 11. How to enhance digital collaboration at work?
The book states, "Knowledge management is a fancy term for a simple idea. You are managing data, documents, and peoples' efforts. Your aim should be to enhance the way people work together, share ideas, sometimes wrangle, and build on one another's ideas-and then act in concert for a common purpose. Provide the digital tools that make knowledge sharing possible and reward people for contributing to a full flow of information."
We can expect 'Digital repositories' to be a differentiating factor for the success of organizations. Knowledge and experiences to be digitized for augmentation of the organizational capabilities.
12. Technology destroys old jobs and creates new ones
We are witnessing a 'technology revolution' that both destroys and creates jobs. All routine and standard jobs will be taken over by machines/tools/technology. People will have to enhance their capabilities to stay relevant. They need to move to something, where intellect is required and machines can't really replace them. Large investments by corporates in 'productivity improvement tools' are only a matter of time.
13. How to digitize your organization?
Corporates would need to integrate their knowledge management, business operations, and commerce systems to create a seamless digital environment. This will help in better production planning, better inventory control, better receivable management, and better customer service. Therefore, the success of corporates would be significantly dependent on their ability to build a 'digital nervous system'.
14. The future is remarkable.
Mr. Gates further envisaged the changes in the healthcare industry, education space, and many more areas. One can already witness his imaginations in reality today. It's possible to consult a doctor online from thousands of miles away. Education space has moved significantly to online. Indeed, the pandemic has fast-forwarded the progress of 10 years to 10 months on the digital front. Both creators and customers have changed swiftly as a response to the crisis.
Expect all your medical history to be somewhere on the cloud, all your education history along with job experience to be on the system in a verifiable manner, all your financial assets – Bank accounts, securities, post office accounts, PPF, Sukanya Samriddhi, fixed deposits to be available for a view in a single window.
Expect the entire history of owners of assets like cars along with insurance claims, accidents, and maintenance/service record to be available for view to the potential buyers for verification. The same is the case with 'Houses', where there have been multiple cases of disputes on ownership. Digitization of real estate records and BlockChain technology will make all that possible in the future.
15. Building a digital nervous system
For building Digital Nervous System, organizations need to prepare a blueprint, decide on what to buy as hardware and software/applications, and what to build (solution to all requirements may not be available in a readymade manner). While dealing with these issues, one needs to ensure scalability, agility, ability to top up applications, speed, and seamless flow of information among the stakeholders. The typical structure of this DNS could be like this:

Summing Up
Mr. Gates used the terms like 'Information age', 'digital age', 'world-wide connectivity', 'web workstyle', and 'web lifestyle.' Each of them is visible today. The world has shrunk to two devices – a Laptop and a Mobile. Education, entertainment, work, commerce, and more are taking place on these two devices.
New-age technologies like Machine learning, Artificial Intelligence, the Internet of things, Robotics, Chatbots, Augmented Reality, Virtual Reality, etc. are emerging rapidly to further revolutionize the world around.
Look out for opportunities in the changing world! Be ready for the Roller Coaster ride as the world is changing at the speed faster than ever before.